Aerial Work Platform (AWP) - SINGLE MAST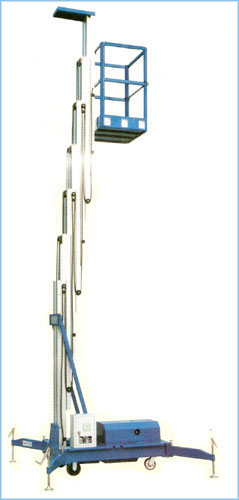 Product Description
An aerial work platform is a device used to provide temporary access for people or equipment to inaccessible areas, usually at height. They are generally used for temporary, flexible access purposes such as maintenance and construction work or by firefighters for emergency access.
Uses
Indoor and Outdoor Lighting Maintenance, Renovation Work, Painting Applications, Industrial, HVAC Installation and Acoustical and many more uses.
Features
Each lift is mounted on four heavy casters.
All machines feature dual, high strength chain for lifting.
Emergency down valve on base of unit in case of any electric failure.
Continuous top guard rail on cage for added security.
Adjustable outriggers, with no-marring pads, are self- storing and easy to use
Rolls through standard doorway and Elevators
Choice of power Options : AC and DC
Shipped complete and ready for immediate use.
Hydraulic Cylinders shall be fitted with Hose Break Value for safety in unlikely event of a burst or cut hose.
Limit switch provided for maximum height cut off as safety.
Stabilizers / Outriggers ensure 4 point ground contact.
Level Gauge is provided. With the help of the level gauge outriggers are leveled to ensure that the equipment is not inclined to any side.
Single/Twin sets of chains for every mast extensions ensure additional safety.
Neat and secure electric cable arrangement ensures safe cable travel during lifting and lowering operations.
In case of battery supply Battery is mounted on platform base. Battery shall be in fixed position and is detachable.
Dual Control Panels is fitted one on chasis and one on platform.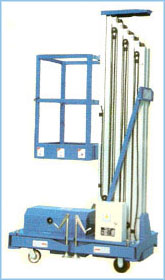 Control
Lift functional of AWP is controlled by an operator, who can be situated either on the work platform itself, or at a control panel at the base of the unit.

Controls vary by model, but are generally buttons. The type and complexity of these will depend on the functions the platform is able to perform. The controls can control features such as : UP, DOWN and STOP.
TECHNICAL SPECIFICATION
AERIAL WORK PLATFORM - SINGLE MAST
Details
Unit
Model
AWP – SM6

Model
AWP – SM8

Model
AWP – SM10

CAPACITY
KG
150
125
125
MAXIMUM HEIGHT, A
MM
6000
8000
10000
WORKING HEIGHT, B
MM
7700
9700
11700
PLATFORM SIZE, C X D
MM
620X630
620X630
620X630
FOOT PRINT, E X F
MM
1940X1780
2020X1850
2030X1860
INPUT ELECTRICAL SOURCE
AC – V
220
220
220
DC – V
24
24
24
BATTERY
V/AH
2X12/60
2X12/60
2X12/60
BATTERY CHARGER
V/A
24/12
24/12
24/12
LIFT MOTOR PUMP
AC(V/KW)
220/0.75
220/0.75
220/0.75
DC(V/KW)
24/2
24/2
24/2
OVERALL SIZE L X W X H
MMxMMxMM
1350X840X1800
1400X840X2000
1430X840X2100
WEIGHT, Kg
AC
300
370
410
DC
380
430
480

Checklist
How are you doing your high-reach jobs today?
Exactly what jobs you need to perform?
How many people you need to lift at one time?
How high do you need to reach?
How will you transport the lift: Trailer? Pick up Truck? Fork Lift?
Will the lift always stay at one location?
Will you be moving the lift over uneven surfaces? Indoor or Outdoor?
Will you need leveling capability?
How narrow or wide are your access areas?
Will you need AC or DC power source?
Will you need to work over immovable objects? (like auditorium seats)
Will you need to go through standard doorway?